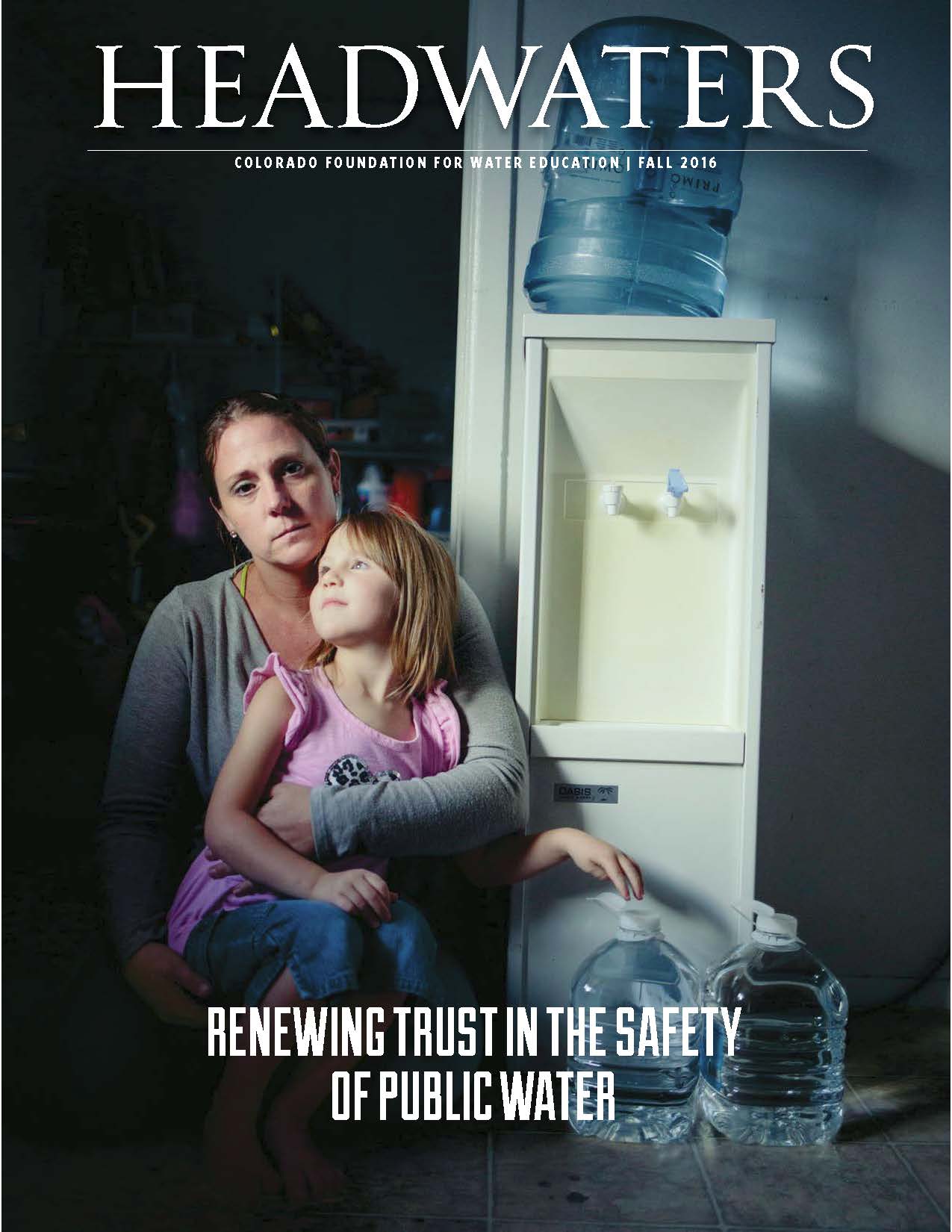 Explore the link between safe water and public health. This issue looks at the law and policy governing safe drinking water; monitoring and evaluating the health risks of as-yet-unregulated contaminants; rural water challenges; and considerations in pursuing increased water reuse. Browse articles and find a flipbook of the magazine here.
Bringing you the reporting you crave over the radio airways with extras and archives on our website. Visit the audio archives or listen to the latest story on fluoridated water and public health: .mp3&autostart=0&autoreplay=0&showtime=1" />
Colorado Foundation for Water Education
Registration is now open the 2017 Water Fluency course on Colorado's West Slope. This unique educational experience will increase your water fluency so you can better analyze water's influence on the issues you deal with every day and evaluate creative solutions. Become immersed in the language and concepts of water as well as tools for navigating the culture, complexity and future of water management and policy issues. Learn more, review the course schedule and agenda, and find registration information here.
Have you heard that rainwater collection is now legal in Colorado? Since the law changed last year, rain barrels have been all the rage as Coloradans get excited about this new way to garden while saving on their water bill. Join CFWE on March 24 to craft and bring home your own rain barrel. We've partnered with River Network, MillerCoors, and Blue Moon Brewing Company to host a rain barrel workshop. Attend to build a rainbarrel, or sign up to join in the fun and celebrate being an awesome water citizen. It will work like this:
1. You register and join us on March 24
2. We provide the tools and materials that you need to build a rain barrel and an educational session on how rain barrels can play a role in Colorado water management
3. You get to work and build your own rain barrel
4. We all enjoy a first beer, courtesy of Blue Moon, and appetizers
5. You go home with your rain barrel!
Learn more and register here.
| | |
| --- | --- |
| Thank you to all who applied for the 2017 class of Water Leaders! The application period has now closed. We're reviewing applications and look forward to announcing the next class. This highly competitive program is recognized as the premier professional development course for the water community in Colorado. Since 2006, the program has provided training in conflict resolution, communication, management, and much more to participants across the state. The program focuses on individual growth. Participants receive extensive training in skills related to navigating conflict and diversity, leading self and others, and effective management and problem-solving tactics. Learn more here. | |
Sign Up for Headwaters Pulse e-news
And view the latest issue of Headwaters Pulse, CFWE's monthly e-newsletter here.
The Colorado Foundation for Water Education Blog

In 2012, city officials in Flint, Michigan, began to investigate the possibility of saving money by switching water providers. Projecting...

  There is a high likelihood that at some point in your life, you have used a product containing fluoride....

Originally posted on Coyote Gulch: Sometimes you go round and round, search and search, and come back home! Greg Hobbs...